Congratulations to the voters of Portland, Oregon for rejecting a plan to add fluoride to their city's water.  Well-informed communities knowledgeable about the toxic effects of water fluoridation are beginning to reject the outdated idea that mass medication will somehow prevent oral and dental problems. Fluoridation is a practice of adding fluoride (a toxic agricultural waste product) to municipal water supplies. I consider it involuntary medications with a wide variety of harmful side effects. Unlike any other water treatment procedures, water fluoridation does not treat the water, but the person consuming it.
The World Health Organization acknowledges that there is little difference in the rates of tooth decay in children living in fluoridated and non-fluoridated communities. In fact, the U.S. is the only Western country that permits fluoridation of water supplies. All of Europe, Japan and Korea prohibit water fluoridation.
In addition, the Centers for Disease Control and Prevention confirms that topically applied fluoride, as in fluoridated toothpaste, may have a positive effect in preventing cavities, but ingested fluoride, as in drinking water, has little, if any positive effect and plenty of negative ones.
WHY REJECT FLOURIDE?
Fluoride is toxic, pure and simple. The Centers for Disease Control and Prevention confirms that one-third of American children have dental fluorosis (discolored teeth) caused by excess fluoride consumption. Excess fluoride consumption has also been linked to bone fractures, behavioral problems, hypothyroidism, bone cancer and reduced IQ in children.
THE FLUORIDE MYTH
Since the early 1950s, fluoride has been promoted by government and dentists alike as a solution to cavities, tooth decay and other dental problems in children.
Major dental problems being acquired by our children are rooted in high consumption of sugar and poor dietary habits. I am talking about the buckets of sugar-laden Coke with which many or our children (and adults) wash down their meals. Parents and health educators are remiss in teaching good nutrition proper dental hygiene.
We would all be better served by a government that promotes proper dental hygiene and dietary habits instead of spending taxpayer money adding toxic chemicals to our water supply.
If you're still drinking the Fluoride Myth Kool-Aid (pun intended), by all means buy fluoridated toothpaste. It may help and it probably won't hurt much unless you swallow it  (please note the warning label). For the rest of us, we'll cherish our clean pure water, thank you very much. And thanks, Portland, for bringing this issue out front again.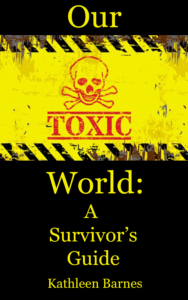 For more information on this topic and more from our Toxic World, check out my latest book released this month (May 2016): Our Toxic World: A Survivor's Guide
This book is currently available in paperback and will be released soon for Kindle.
I have a number of books addressing more topics like this one, as well as health-centric titles on wellness and green living. Here is the most up-to-date catalog – https://www.pinterest.com/kbarnesnc/my-books/
You can see excerpts throughout my blog by exploring the Book Excerpts category.